If you work in the hospitality industry, you'll likely have heard of the increasing significance of LGBT tourism. But what might surprise you is the importance that LGBT travellers place on a hotel's reputation amongst the gay community. A staggering 83% of gay men and lesbians choose their hotel based on its gay-friendly reputation.
If you're now wondering how to improve your hotel's LGBT-friendly reputation, there's certain LGBT trade associations, consortias and consumer websites that you can work with. We've written a few blog articles about this, have a look at How to increase your LGBT hotel bookings and Three ways to target LGBT travellers through your hotel brand identity.
Of course making your hotel more
LGBT-friendly
comes with an initial cost, but one that is well worth it down the line.
Here's why your hotel's LGBT-friendly reputation is key to drive more hotel bookings:
(1) The LGBT travellers spend $218Bn annually

Yes, you read that right. Need we even say more? According to Out Now's global LGBT2030 research program, the annual travel spend by LGBT customers in 2018 amounted to more than $218Bn. This includes spending on domestic and international travel, accommodation, holiday dining, sightseeing and other tourism expenditures. The United States makes up the largest share, with $63.1Bn, but the UK is amongst the top five countries, with residents spending a total of $11.7Bn on LGBT travel last year alone.
This comes as no surprise. Often branded as DINK – dual income, no kids – travellers, gay people tend to have a more disposable income, and spend more on holidays, than heterosexual couples. In fact, US research suggests that 80% of gay people have incomes above the national average, with 40% earning more than $100,000 per year. With no need to put money aside for children, gay Europeans spend around €50Bn on travel each year.
(2) LGBT customers travel all year round

Forget stressing over whether you'll make enough profit this summer season: LGBT customers travel all year round. While summertime is still one of the most popular travel seasons, LGBT travel is relatively dispersed across all months of the year.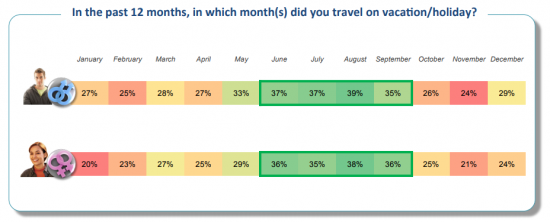 This is also largely due to Pride events happening at different times of the year. Pride events drive significant LGBT travel, especially amongst people aged 21 – 35. According to a recent Community Marketing study, over 20% of LGBT respondents indicated that they travelled to another city and spent a night or more to attend Pride events in the past 12 months. We list all Pride (and other LGBT events) on our website, have a look at when the next event is happening near you. And if you're keen to jump on the Pride bandwagon, read through our three tips on how to increase hotel bookings for World Pride for inspiration.
(3) LGBT-friendly reputation is a key booking motivator
Here's some more good news: gay men tend to travel twice as often as their heterosexual counterparts. But they pick their accommodation wisely. After location and price, a hotel's LGBT-friendly reputation is the third most important motivator for gays and lesbians when deciding whether or not to book a hotel. Recent research showed that 46% of gay men, and 42% of lesbians, stay in LGBT-friendly hotels for leisure travel all or most of the time.
As more and more hotels start to realise the importance of having an LGBT-friendly reputation, competition amongst hotels targeting LGBT travellers is increasing fast. Luckily, this is something we can help you with!

Improve your hotel's LGBT-friendly reputation
At World Rainbow Hotels, we're experts at marketing hotels to an ever-growing community of LGBT travellers. We bring together a global community of gay and lesbian welcoming hotels, providing accommodations like yours unprecedented visibility and access to the LGBT market.
Being listed as one of our hotels will automatically increase your hotel's LGBT-friendly reputation as your visibility sky-rockets.  If you're keen to increase online hotel bookings from LGBT guests, find out more about our services or register your hotel today.