GAY AND LESBIAN HOTELS IN France
One of the largest countries in Europe, France adopted same-sex relationship rights relatively early on in the continent, however while single gay people may adopt, couples do not have this right. The major cities of France have thriving gay scenes including Paris, Lyon, Nice, Toulouse, and Montpelier.
The Paris gay scene, called Le Marais, is thriving with something happening every night of the week, while Lyon and Nice are somewhat smaller they are much busier during the warm summer evenings. June is a busy month for pride festivals in France with Paris, Bordeaux, Montpelier and Lyon Prides.
The Alps is the home of The European Gay Ski Week in March where you can enjoy the highest peak in Europe at over 4,800m high. France famed for the Cannes film festival has a number of gay film festivals including Vues d'en face in Grenoble during April. France has a lot to offer the seasoned traveller; its cuisine including cheese, frog legs, oysters, garlic and snails, the infamous Champagne region for its wines, the warm Mediterranean beaches of the south and the mountains of the Alps. Nice has its own dedicated gay beach, and further along in Saint Tropez are a number of nudist beaches.
The country is well connected by long-straight roads, fast and efficient railway networks and regional airlines. France is such a popular and well-liked holiday destination that three quarters of French people go on holiday in France.
EVENTS in France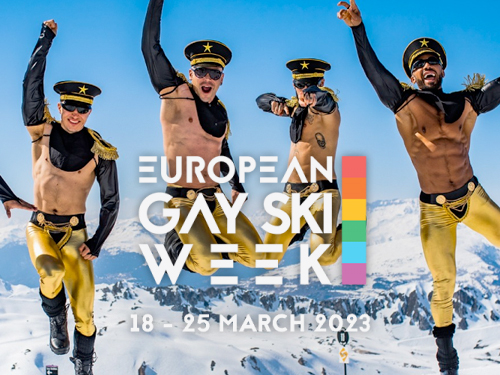 18 - 25 March 2023
European Gay Ski Week will be held on 18th March 2023 to 25th March 2023.
CONTINUE READING
18 - 25 March 2023
European Snow Pride will be held on 18th March 2023 to 25th March 2023.
CONTINUE READING
GAY & LESBIAN FRIENDLY HOTELS IN France
THE TRAVEL BLOG
TIPS, IDEAS AND INSPIRATION
GO TO BLOG