World Rainbow Hotels provide its member hotels the opportunity to receive incremental reservations from the LGBT travel segment.
ENHANCE YOUR MEMBERSHIP NOW!

Two options:
• Upgrade to PREMIUM MEMBERSHIP
• Choose A LA CARTE MARKETING services below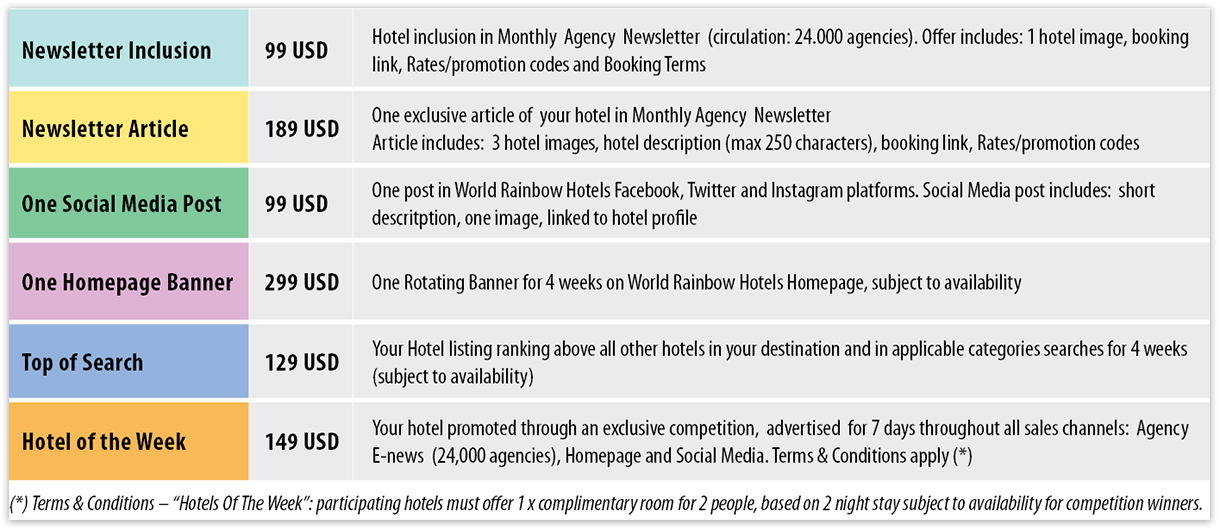 The above listed A LA CARTE MARKETING can be purchased either when joining the program, or at any time during the hotel's membership period.

A LA CARTE MARKETING
NEWSLETTER INCLUSION
Promote your hotel through an inclusion in on our Monthly Agency Newsletter (circulation: 24,000 agencies). Inclusion includes:
NEWSLETTER ARTICLE
Promote your hotel through an article in on our Monthly Agency Newsletter (circulation: 24,000 agencies). Article includes:
3 hotel images
Hotel description (max 250 characters)
Booking link
Special Rate/Promotion and/or event at property (description, booking codes & terms)
Social Media Posts
Promote your hotel in our Facebook, Twitter and LinkedIn accounts. Facebook and Twitter are used for end-consumers while LinkedIn helps us highlight your hotel to travel agencies and corporate bookers.
Hotels are invited to send us stories and news of their hotel and city, so that we can spread the world to our website.
(Examples: Motif Seattle, Kimpton Eventi New York)
HOMEPAGE BANNER
Your hotel will be highlighted for two weeks on our homepage. Because of limited space restriction, we recommend you to book our Homepage spot well in advance.
HOTEL OF THE WEEK
The Hotel of the Week will enjoy of an extensive coverage throughout all our channels, in exclusivity during 7 days. Each week we will run an exclusive competition, promoting "The hotel of the Week" to both consumers and agencies. The competition will be advertised for 7 days on all channels:
WRH Homepage
Social Media
Agency Newsletter
Affiliated Websites and Partner Media