We've done the work so you don't have to, here is part one of the A – Z of "Gayborhoods" and Gay Scenes worldwide. Compiled by a number of travel writers and gay socialites we want to see how many times we can get through the alphabet the gay travel way.
Going across the world from North America, to Europe, Africa to Asia, New Zealand to Buenos Aires we have started the gay hot spot dictionary. 
Check out the list, and tell us your experiences of these elusive gay villages. Maybe you want to pick a letter and go – where will your next destination be?
If you have any contributions for Part 2, please do share. What gay scenes are missing?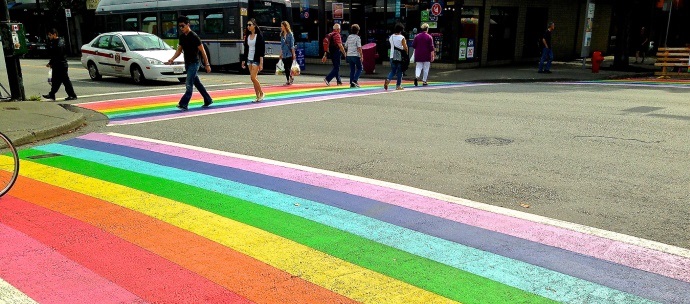 Help us create the unique and comprehensive list of Global Gay Scenes.
Amstel, Amsterdam
Bellavista, Santiago
Castro San Francisco.
Chelsea New York,
Davie Street, Vancouver
Edinburgh Pink Trianle, Broughton Street
Fruit loop (AKA Paradise Road), Las Vegas
Gazi, Athens
Hell's Kitchen New York
Istiklal Street, Turkey
Jardins in Sao Paolo, Brazil
K Road, Auckland
Le Village, Montreal
Montrose, Houston
Newton, Australia
Oxford Strip, Sydney's 'Gay Golden Mile'
Paceville and St Julians districts, Malta
Queenstown – Worldwide [general term]
Recoleta, Buenos Aires
Sconeberg of Berlin
The Commercial Center (off Sahara Avenue), Las Vegas
Unbelieveable time [what most gays come away with]
Vinohady, Czech Republic
Wilton Manors, Fort Lauderdale
X-rated [only available on some scenes]
Zeedijk, Amterdam
[divider] [/divider]
Image Credits:
Castro, San Francisco. Image by torbakhopper via Flickr (CC BY 2.0)
Chelsea, NYC. Image by Leif Harboe via Flickr (CC BY-NC-ND 2.0)
Le Village, Montréal. Image by Quebéc Original via Flickr (CC BY-NC-ND 2.0)
Davie Street, Vancouver. Image by Rick Chung via Flickr (CC BY-NC-ND 2.0)
Castro, San Francisco. Image by torbakhopper via Flickr (CC BY-ND 2.0)
Rainbow crossing. Image by François Péladeau via Flickr (CC BY-ND 2.0)