Roads can be somewhat dull without a rainbow flag, so Gay Travel (http://www.gaytravel.com) has changed all that and is now cruising the highways with its very first GTCruiser. While it's only in the USA at the moment, anyone traveling or residents can make a point to spot the vehicle as it cruises from city to city.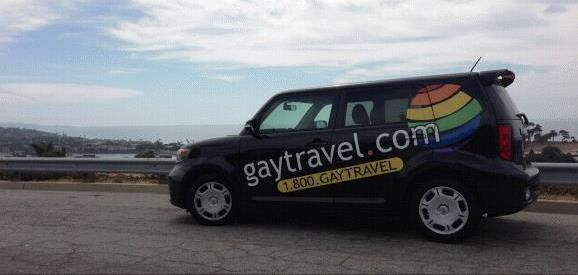 Emblazoned with the gaytravel.com logo on the side theblack Scion XB sport utility vehicle , Community Manager of GayTravel.com will be seen driving it about.
"At times I feel like a celebrity as I drive through neighborhoods like Hillcrest. People are waving, taking pictures, and honking their horns, I am definitely having fun with it.""
Joey Konecek said.
Having a car with such a graphic may not have worked a decade ago, said the founder.
"When I started this business more than 10 years ago the idea of placing our logo on a company vehicle wasn't even considered. Since we're now living in such a progressive society, it felt like the right time. The car gets a lot of attention – both good and bad – which is what we expected."
said Steve Rohrlick.
Take part in the competition to Spot the car for a special two-night stay in San Diego. Just make sure you get a photo. For more information click here.
[divider] [/divider]
Editor's note: This competition is no longer running.
[divider] [/divider]
Image Credits:
Road image by MortAuPat via Flickr (CC BY-NC-ND 2.0)