CONTACT FORM
MEMBERSHIP OPTIONS

Contact us today to find the best program for you!
STANDARD MEMBERSHIP
WRH 2021 PROGRAM

The WRH 2021 membership offers hotels the renew their current membership or to join our program until 31st December 2021. FIND OUT MORE
PREMIUM MEMBERSHIP
To increase your property's visibility in the LGBT niche segment, you may choose one of our two Premium Membership options:
GOLD
290 USD supplement to joining fee

HIGHLIGHTED PROFILE ("OUR FAV")
SUPERIOR RANKING (increased search results)
HOMEPAGE BANNER – 2 weeks
SOCIAL MEDIA – 1 promotion in all channels

PLATINUM
390 USD supplement to joining fee

HIGHLIGHTED PROFILE ("OUR FAV")
TOP RANKING (highest search results)
HOMEPAGE BANNER – 4 weeks
SOCIAL MEDIA – 2 promotions in all channels
TRAVEL AGENCY NEWSLETTER – on inclusion (24,000 agencies)
Premium Membership Inclusions
All Gold and Platinum membership will receive an annual marketing plan detailing the timing of each inclusion.
Hotels are invited to discuss these timing with us, and to send us content (special offers and/or hotel news) at least 14 days prior the publishing date.
Enhanced Hotel Profile
Our favorite hotels get enhanced visibility throughout the website. A distinctive logo "OUR FAV" sets them apart in all search options, including:

Top of Search
Gold and Platinum Members are listed above other hotels in all web searches. The ranking works as follow: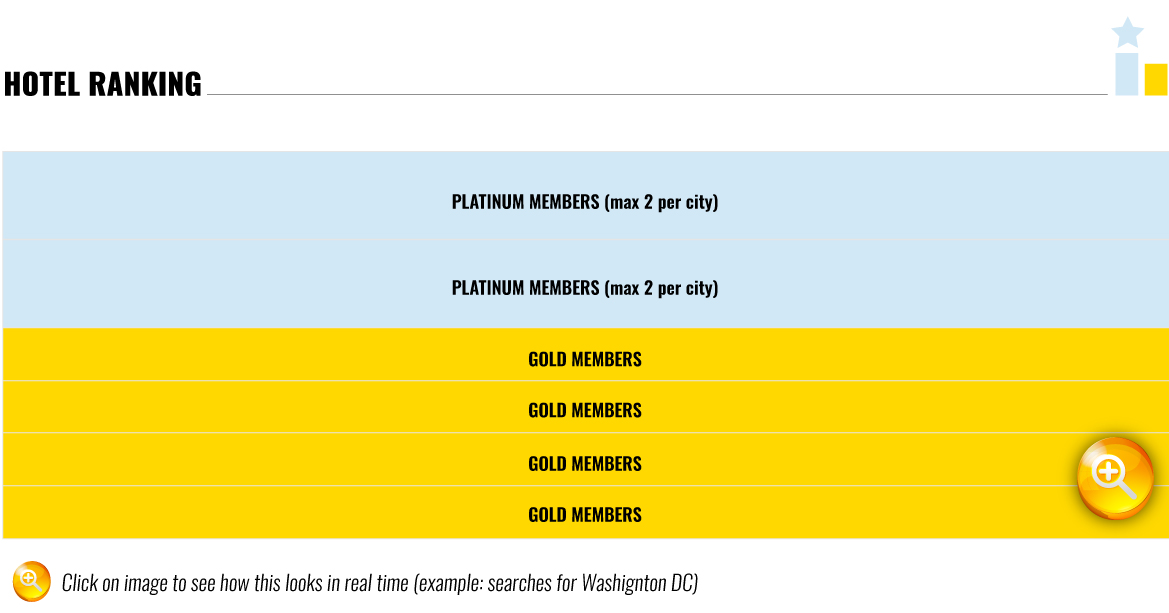 Rotating banner
Our Premium Member Hotels are being featured on our homepage and in various other sections of the website. Premium Members receive:
Gold: 2 weeks banner display
Platinum: 4 weeks banner display
Social Media Posts
We promote our favorite hotels in our Facebook, Twitter and LinkedIn accounts. Facebook and Twitter are used for end-consumers while LinkedIn helps us to highlight your hotel to travel agencies and corporate bookers.
Hotels are invited to send us stories and news of their hotel and city, so that we can spread the world to our website
(Examples: Motif Seattle, Kimpton Eventi New York)
Agency Newsletter
Premium Members receive one free inclusion in the WRH Agency Newsletter (circulation: 24,000 agencies).
Inclusion consist of: 1 hotel image, booking link, rates/ promotion, booking terms.