LGBTQ+ Travel to Edmonton, Alberta
Alberta's capital city – Edmonton, is always celebrating something, from arts and culture to food and wine, you have more than 60 festivals to choose from, year round. Plan to spend the better part of a day – or longer – at West Edmonton Mall, which is the largest shopping and entertainment complex in North America and the size of a small city.
Explore Edmonton's museums and historic sites. Come to the famous farmers' market in the Old Strathcona and chat with local vendors. Explore the galleries and shops, find a funky restaurant and stick around for the night life – live theatre, music and dancing.
A premier Edmonton hotel which is nestled in the heart of the Garneau District, minutes to downtown Edmonton and the Ice District, Campus Tower Suite Hotel is a perfect LGBTQ+ friendly accommodation; and the latest Canadian hotel to join the World Rainbow Hotels collection.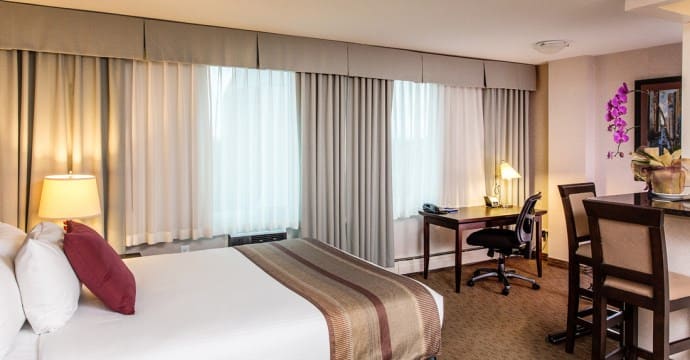 Staying with Campus Tower Suite Hotel is like staying with a close friend. It is their goal to make your stay as comfortable and as much like home as possible. The hotel has designed the 90 suites to allow for extended stays to be as comfortable as one-night visits. Each of the suites is well-appointed with modern, residential styling, full or limited kitchenettes, comfortable sleeping, living and dining areas and many other amenities.
Jeannie Langley, General Manager explains:
'Our hotel is proud to offer a "live.like.home" experience to our guests by offering an all- suite hotel that provides all the essentials that our guests have come to expect and even more. We are passionate about providing exceptional, personalized service so that our guests they feel like part of our family. We are thrilled to have been accepted into the World Rainbow Hotels collection, which only speaks to our ongoing commitment to provide an exceptional product combined with stellar service. This promise has reflected on the many positive reviews that we get on popular websites such as TripAdvisor.'
Recently, Campus Tower Suite hotel, a LGBTQ+-friendly accommodation has been bestowed with many accolades such as Alberta Hotel & Lodging Association – Employer of Choice & Housekeeping Award, Tourism Industry Association of Canada – Employer of the Year runner up, Hotel Association of Canada – Human Resources award, TripAdvisor Certificate of Excellence & Green Leader Bronze level award – for its sustainable practices.
Image Credits:
Main image by Travel Alberta