As same-sex marriages start to take place legally for the first time in the UK, an estimated increase in same-sex couples booking their honeymoons abroad has triggered a new travel advice campaign by the Foreign and Commonwealth Office. The campaign, launched today, aims to reach out to LGBTQ+ couples and to LGB&T travellers more broadly, and advises them to choose their travel destination with care. Here is the main gist of it:
Attitudes towards gay, lesbian, bisexual and transgender travellers vary considerably around the world and can be very different from those in the UK;
Always research the destination you intend to visit before you book your holiday/honeymoon:
Some countries could have laws which punish same-sex sexual activity – even, potentially, with the death penalty;
While others may recognise same-sex marriage, it may not be culturally acceptable; certain acts may not be legal and the local society could be intolerant of LGBTQ+ travellers in general.
Visit the LGBTQ+ travel advice page on GOV.UK for more information.
To coincide with the campaign launch the F&CO has also partnered with The Gay Wedding Guide and canvassed opinions on the LGBTQ+ travellers' top choices for honeymoon destinations abroad. Here is the result: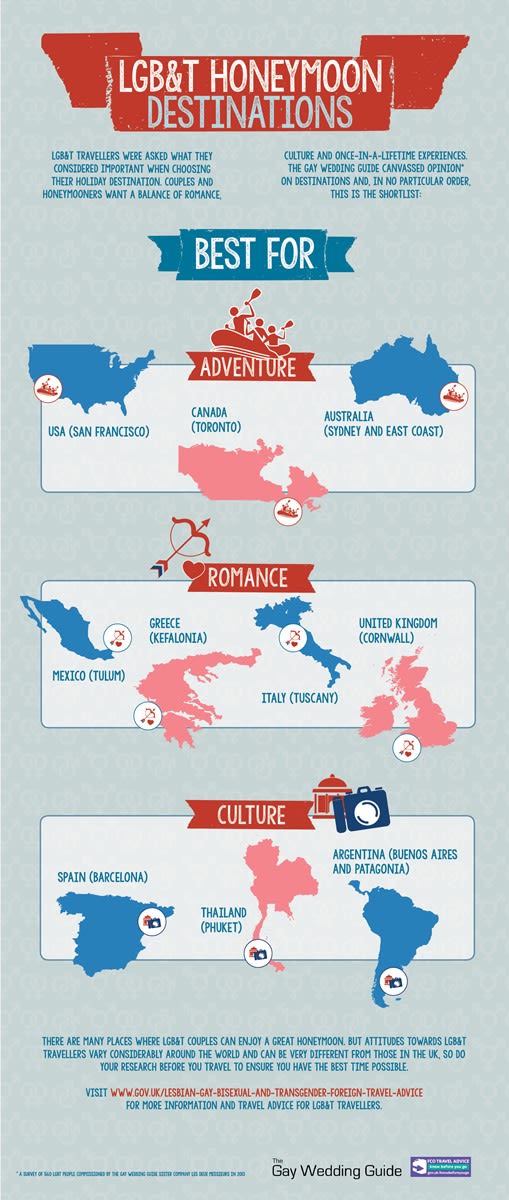 Looking for the perfect hotels in the above top destinations? Search LGBTQ+-friendly hotels in Toronto, San Francisco, Sydney, Barcelona, Phuket, Italy, Mexico, United Kingdom or Argentina.